Welcome back! Spring is in the air, and that can mean only one thing: It is derby season! And this season, we have the pleasure of skating with a girl who is as hard as metal: Bleu Steele. You may have noticed her around the past few years and wondered what makes her tick. I had the opportunity to sit down with Bleu and find out just that. Here is what she had to say about her skating career and the making of Bleu Steele.
So, Bleu, you were nominated as Skater of the Month by Sally Stitch. She noticed your confidence and wondered where you get it from. You seem very collected on the track. She says you are very outgoing and she likes that.
I'm old. I used to be a ball of frenetic energy. I still have ADHD, but I have kind of squashed that down as far as I can. I've LIVED. And I have survived a lot of stuff in my life. I've been through school; I've been thought relationships; I've worked. I've always been an athlete, so when it comes to any kind of confidence people see in me on the track with derby it comes from practice. I like to try things. I'm not scared of failure. And I'm working on the other fears in my life, not just derby. I know I'm a smart cookie, and I can survive some messed up stuff. So whatever is thrown at me now…not to sound cavalier, but I've lived and I've survived. And I'm still living, so that gives me to confidence to face every day.
What initially drew you to derby/who is your inspiration?
My best friend, Marysha, a.k.a. Black Stabbath. She had just moved back to Knoxville. We had just kind of gotten back to the area and were looking for something to do, and where she led, I followed. I wouldn't be doing derby without her. And I have developed my own obsession and love for it, but she is what drew me to derby: She found it first.
Tell me about your derby name. I like origin stories.
Bleu Steele: "Bleu" is the French spelling of "blue." I had bright blue, short cropped hair when I joined the team. Blue is one of my favorite colors. It permeates a lot of my life: It is a calming color. And the spelling is just different because I wanted it to be different. Steele is because I have cousins in my family with that last name and the spelling worked out for my purpose.
That's cool because you have your family tied to your name.
My cousin, Ameila, actually lives here in town. When I started playing derby, and things about my derby came up on Facebook, and things like that, she was like, "Steele?"
It's great because you "Steele-d" it.
You just got Bleu Steeled! But, um, no. People ask me to do the face all the time. I think I can do it, but whatever.
What are you most excited about this season?
Jamming more.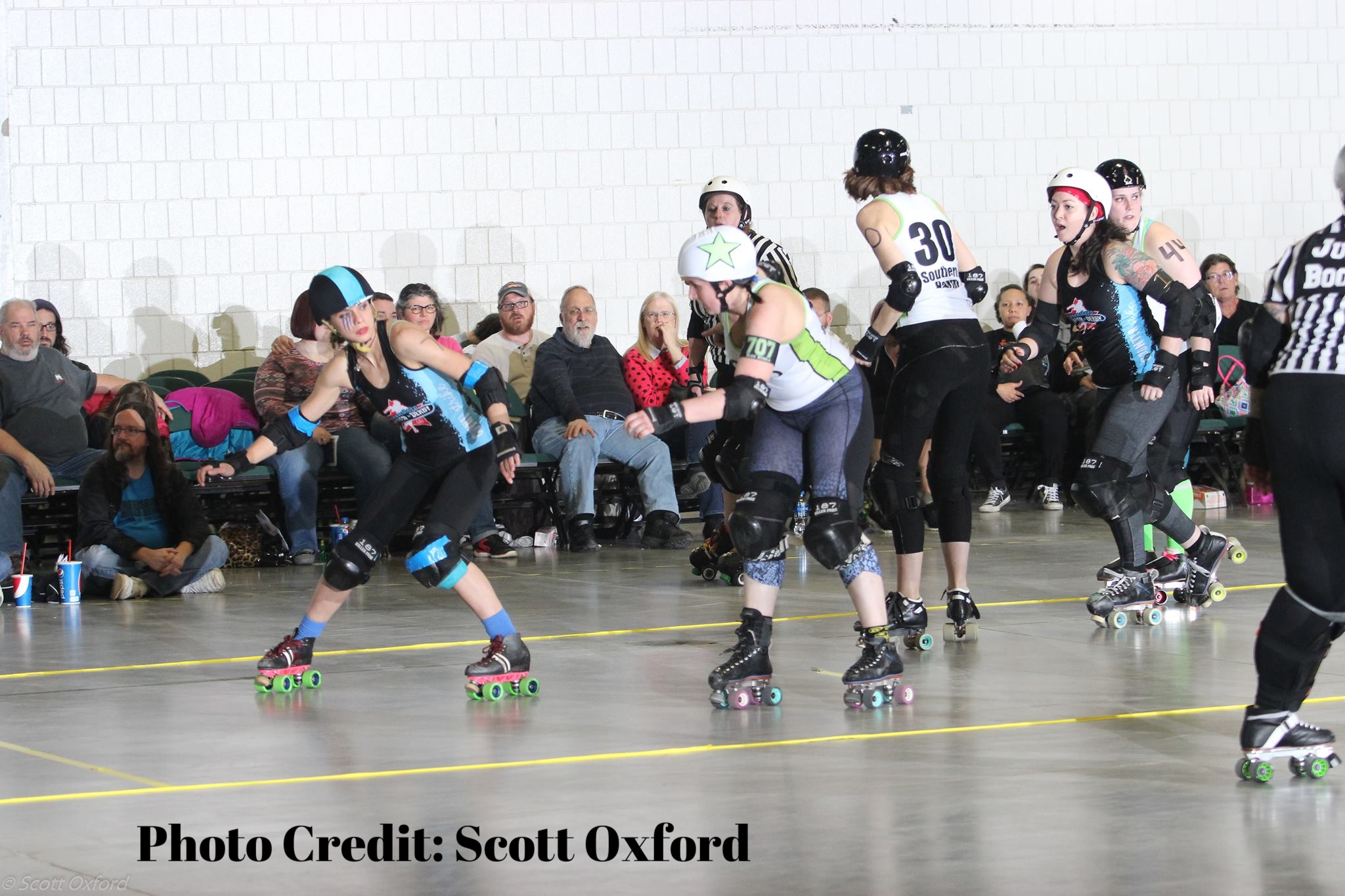 You kicked butt jamming at the last bout [against Greensboro Counter Strike].
I really worked hard. I could have had a more specific goal in mind for my jamming in that game, but their strength caught me off guard at first and I was trying to keep the pace throughout the whole game. I need more endurance. That's a goal. Looking forward to this season, I have had more time behind me that I have been on skates since my leg break. So I feel like I am still catching up, and I want to get caught up this year.
When did you break your leg?
May of 2016, so about 2 years ago. I missed all of the 2016 season except the last game. And I was shaky. And then last year was still a rebuilding. I am going to finish my rebuilding this year and improve even more.
What was your favorite moment from last season?
Favorite moment from last season? Humm…getting those MVPs was nice. I was talking about this with a coworker earlier today: I bookended my season with MVPs. Our first game last year was an away game, and I got MVP Jammer. I believe it was against Chatty [Chattanooga Roller Girls B Railers]. Our last game of the season, the home game, I got MVP blocker. I worked really hard during the season to improve on blocking. My goal isn't to get MVPs, but those were memorable moments to know that my work is paying off.
Well, whether your goal is getting MVPs or not, getting them is kind of sweet.
You are often seen blocking, pivoting, and jamming. Do you have a preferred role? What is your favorite thing to do in a game?
My preference is jamming, I think. I just have a growing urge more and more to get better at it. I am working to improve my cardio fitness so all my air keeps up with how long I want to go and how many points I want to score. I prefer jamming, but I think I am a solid blocker. I am improving on that, too. I am not the best blocker, by far, but I feel pretty good at it.
You have been skating for a few years now. Do you have any words of encouragement/insight for anyone considering strapping on some wheels and joining derby?
I was really scared. I like to think I kept it well hidden, but I was really scared at the beginning of this whole thing because I didn't know how to skate. I had to learn. I had to learn technique, everything. I started at the bottom. I would just say that, you know, there is fear. That is kind of granted. But use that fear to keep putting your skates on: keep rolling around. If ultimately you realize skating is not your thing, fine. But if this is the activity you really want to stick to, use the fear to keep going.
Fear can be motivational.
Yeah, yeah. Just don't dwell on fear of failure. Every time you put on your skates, your mind and body and muscles are all forming connections and making them stronger. Every time you put your skates on, and every time you come to practice, you are getting better.
What is your gear set-up?
My skates are Reiddell Blue Streaks.
That works!
Yeah, it worked out that way. I went to Asphalt Beach [Nashville] with Bushwhacker. We both got new skates that day. I tried on several different boots, and I wanted those Atoms: They were super sweet. But for my foot shape and stride style, the Reiddells were awesome and comfy. I'm trying to remember what plates I have…I don't know. I think I have Avenger plates. Right now, the wheels I have are Halos. I like Halos and need another set. I use Halo 88A's and some Atom 93A's mixed around on my skates right now. The 93A's were slippery enough on the floor, and the 88A's were grippy enough to grip some. I like a little more control. I have 187 pads. I need cushy knees because mine are just a bit tender/sensitive. I have a Triple 8 helmet covered in stickers. I use a Sisu mouth guard. I soak my mouth guard in Listerine and I use Clorox Nature Works on my pads and let them air dry.
You enjoy comedy, and are a comedian yourself. Who is your favorite comedian? Who are your comedic inspirations?
I have been obsessed, ob-sessed, with watching stand-up comedy since I was about 10 years old. In 1996, the first big piece of comedy that I watched was "Back in Town" by George Carlin. It had a lot of language in it for a 10-year-old, but, that's one of his classics. And since then, I would make recorded mix tapes from the TV, from Comedy Central, of half hour specials, and watch it over, and over, and over again. So George Carlin, Margaret Cho, Ellen DeGeneres, Greg Giraldo (may he rest). There is no stand-up comedy that I won't try out. I want to see everyone's work; I want to see everybody's stuff. One of my all-time favorites is George Carlin. I watch his specials all the time. I love Billy Connolloy. His style is crazy. He doesn't write a set down. I'm such a nerd for comedy. I will talk your face off about stand-up comedy. George Carlin and Billy Connolloy had completely opposite styles on the spectrum of preparedness. Billy would just go out and talk, and it is hysterical. He would have an event with the audience. Sometimes it was just a conversation: 90 minutes to 2 hour shows. George Carlin wrote and planned and memorized. He did crowd work, but not as much. It was planned crowd work. He had catalogues, archives of these jokes written down, and he focused on the shape of language; the order. I think from George Carlin and my love of books, I have a love of words. So since I was a teenager, I figured out I could rearrange words to make people laugh, and maybe then they would be nicer to me. It is fun to make my parents laugh; it is easy to make my parents laugh. My sister, less easy to make her laugh, at least when we were younger. I think a big part of my showmanship comes from being the younger sister and having an apathetic older sibling, and me chasing her around to try and impress her brought that out of me. I watch all the modern comedians: Patton Oswalt, Ali Wong is good. Some people I have seen live: I have seen Kyle Kinane. I saw George Carlin before he died. I got to see him back in Fall of 2007 at the Rayman in Nashville. I saw, my freshman year in college, Mitch Hedberg. That was life changing because he died several months later.
Knoxville has a good comedy scene.
It does. There is live comedy almost every single night. I have performed some live comedy in Knoxville. I like Einstein Simplified. There are several good open mics. Shane Rhyne hosts one at the Blue Slip Winery. Tyler Sonnichsen has one called Friendly Town.
I would like to come see you sometime if you get back into it.
You have mentioned before that you enjoy reading a good book. Do you have a favorite book? What is one book you have read recently you would like to suggest to our readers?
My absolute favorite book is Ella Enchanted by Gail Carson Levine. Up there in the top ten is the entire Harry Potter series as a unit: as a whole. It is one giant, wonderful story that I reread from time to time. I have read it in a week, well, 10 days. Vacation is good for that. Ella Enchanted is the first book I loved. I still have the same copy: it is easily 20 years old. I have to work on the Game of Thrones. I am kind of into some memoirs. I have some sports biographies. Andre Agassi wrote a really good one some time ago, I think about 10 years ago, called Open about his career in tennis. It is good to read if you are an athlete, really. You may struggle with some things in your life, but if you love what you do, it will work out. His story is really interesting. I have all of George Carlin's books, all four of them, including his last one, Last Words, that was published posthumously. Jonathan Strange and Mr. Norrell [by Susanna Clarke] is a good one, and anything by Christopher Moore.
You also enjoy comic books (I know Wonder Woman, and others as well) What is your favorite comic book series, and why? If it has recently been adapted to a movie, did you like it? What was it missing/could have been better? What did they get right?
I like most of the comic book movies. As far as story lines, I can really only claim one that I have read through most of it, and that was the New 52 Wonder Woman. All the graphic novels and comic books that I have are Wonder Woman.
Did you like the Wonder Woman movie?
Yes, I did. I would have written a different story, but… Before that project had been announced, I knew DC had been kicking, not very hard, but they had been kicking it around for a while. When I was in college, I had wanted to write a screen play for a Wonder Woman feature movie, and I didn't finish it. I hope that one isn't rebooted to death. The one that was just released with Gal Gadot was just a beautiful movie.
You are not originally from TN. What is your favorite thing about Knoxville, other than Hard Knox of course?
I do love the mountains. I love being in the mountains. I love going to the Smokies to hike or bike, or whatever. That is a hard question. I like the people I know here. I like the quirkiness and quaintness of our big town, small city. It isn't in my plan to live here the rest of my life, but if it ended up that way, I wouldn't be mad about it. I'm from California, so my perspective changed starkly when I moved. I was 9 when we moved. My dad is a Knoxville native, so he packed us up and moved us out here.
You majored in biology, right? Wow us with something!
Um…we invented dogs. Canis familiaris is a human invention. I studied whales and wolves. Those were some concentrations in my animal biology degree. Birds are cool.
Thank you for taking the time and sitting down with me. It was fun getting to know the Steele behind the Bleu. Now it's all up to you. Who would you like to see as our next featured skater?
I would like to nominate Zoe Mazzu. She is IN LOVE with derby. I would like to know what she is studying because she is in school right now. I would like to know if she will play derby even with a new career or what ever she is going to do after school.
And there you have it, my fair readers! Bleu Steele is a fantastic derby player who is dedicated to getting better and really honing her craft. Catch us next month when we get to know Mazzu. May we see you in May?
-Magically Malicious